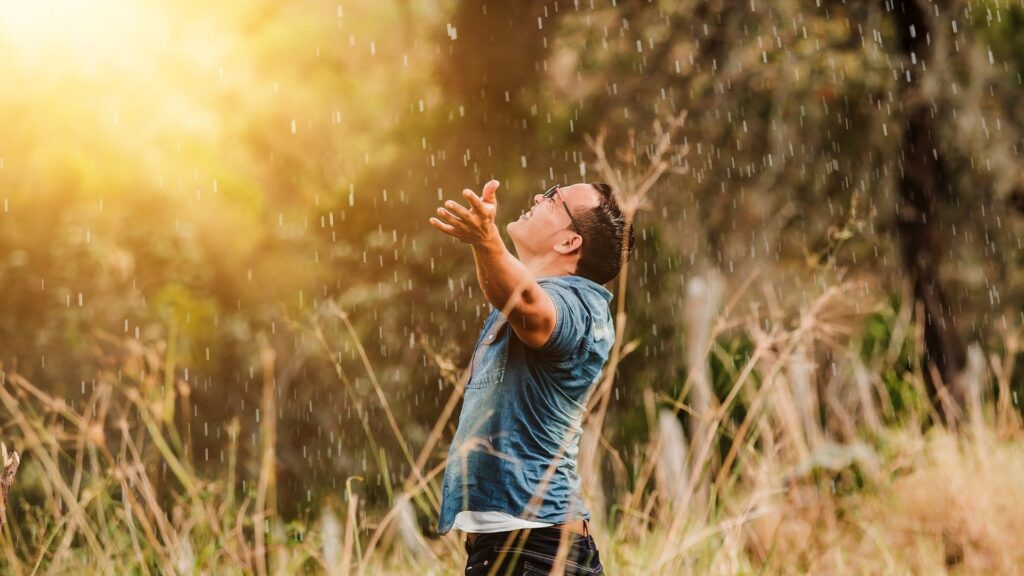 I have found the Father and Jesus! There is nothing that compares!!! Absolutely Nothing!
I am all in with God! I want nothing to do with this world.
When I was younger, I sought to make a name for myself! I sought college degrees and initials after my name! I sought the applause of men and women! I sought titles beside my name! It never fulfilled me!
Then I discovered truth! I discovered the God of the Universe! I chased after Him and His truth. He said I would find Him, if I sought Him with all my heart!
He did not lie! I found Him! I found joy! I found the Christ, that the Disciples told us about, in the Gospels, in the Bible, in Acts.
I found the real thing, and I turned away from the Powerless ways of doing church, and the traditions of men, that are so often found in Churches today. You know what I am talking about; where you go to church, greet each other, sing a few songs, put a little money in the offering plate and go home.
After church, you talk about what restaurant you are going to go eat at, or what time the ballgame comes on t.v.. You talk of how the local sports team did this week; your pro team or favorite college team did this week!!! You talk about your kids and what they are doing and your busy life.
You then go home and live for yourself, the next six days and do the same thing again, next week, when you come to church. You rarely, if ever, tell anyone about repenting of their sins and the good news of what Jesus Christ did for them. You rarely, invite anyone to come to church with you next Sunday!
You have no power and there is little or no power in your church. If you are honest, you would say you are a member of a Social Club!
Friends, I left that church a long time ago!!! That is not the Christian Life and not the true, powerful, world-changing church that Christ died for and established as His Church!
Go Read the Book of Acts and then see if that looks like your life and your church that you attend! You see, your church and your life should look like the church and people found in the Book of Acts.
You and your church should be full of power! Paul said, in I Corinthians 4: 20, "For the kingdom of God is not a matter of talk but of power."
So many churches today are full of talk, by those in the pews and by the pastors in the pulpits. These churches talk a "good game," but they have no power. These churches are not full of powerful, Sprit-filled people and pastors, like they should be. They are not turning the world upside down.
I have tasted the real thing! My life now looks like the life that believers lived, in the book of Acts!!!
When I pastor a church, it is led by God, and the services are led by the Spirit of God. I will not let it be led by me or anyone else; only God! Only His Spirit!!!
I am just a sinful man! I am nothing special at all. Yet, I have chased God and found the real thing. Friends, you will never go back to "Playing Church" or just drifting through life, after you have Experienced God and the power of Him living in you and through you!!!
I am now blessed to walk in signs, wonders, miracles each week, as I seek to only live and serve the Father and Christ. I'll never be the same. I'll never go back to the dead, powerless, way of life that I used to live. I have already wasted so much of my life, in pursuing the temporary, useless things of this world.
I beg you today, to go after the Living, Powerful, God of the Universe and His Son – Jesus. You can walk with God, in the power of His Spirit. You will walk in joy unspeakable, if you do! You will walk in Power!!!
Friends, I am simply passing through this evil world. I have tasted of the Living Water, that Jesus promised to give, to those who die to themselves each day and give their lives to Him!!!
Taste and see that He is good!
Father, Jesus and Holy Spirit – I love you with all my heart! I am not of this world. I am yours!
God, how can I love and serve You more today?
My Lord and My God, You are more than enough!!! Thank you for loving a sinful wretch like me!!!
Ken
a servant of Jesus
Please share this message as the Spirit leads you!